Car License
Driver License – New York Road test
How to get your car Driver's License
---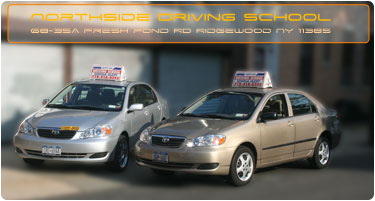 When you have your learner permit, you can schedule and start taking lessons in our driving school, located in Queens New York.
Practice frequently. The DMV recommends that you practice at least 30 hours for your road test. Practice at least 10 hours in medium to high volume traffic. Most new drivers fail their road test because they were not prepared.
In the mean time , you can call us at 718-418-0342 and schedule your five hour pre-licensing course. When you complete the five hour pre-licensing course, you receive a pre-licensing course certificate (MV-278).
This certificate allows you to schedule your road test appointment. You must provide the five hour class certificate number when you schedule your road test.
You must also show the certificate to the road test examiner on the day of your road test. When you and your instructor decide it's time to take your road test, we will make your appointment, free of charge.
We will schedule you a regular road test. You may request the location, day and time you want. The waiting period to get the appointment varies but typically it's five to eight weeks, depending on the time of year. The waiting period is greater in the summer.